Klipheuwel Padstal is a Charming Farm Stall in Little Brak River near Mossel Bay on the way to Botlierskop
The old charming farm house is the essence of Klipheuwel Padstal. The house dates back to 1920 and is a place where locals & visitors can buy local produced products like handmade gifts, home made cookies, rusks, bread and fresh vegetables. Stonehouse properties is located inside the farm stall and specializes in property sales and rentals in the area. The hair salon is managed by full time professional hairdresser that lives in Little Brak River.
Coffee shop with unique coffee roastery near Mossel Bay in Kleinbrakrivier
Break away from everyday life for a couple of hours. Visit Klipheuwel Padstal in Kleinbrakrivier near Mossel Bay where you can relax in our coffee shop or outside on the veranda over looking the large garden with kiddies play area. We serve breakfast till 12:00 with our famous vetkoek on the menu. Our light lunches is served from 12:00 – 16:00 Our roastery is unique due to the fact that we can roast 300g of coffee beans just for you while you have something to eat and then take home. Our beans are supplied to us via Manie from the 1910 coffee company located locally in George.
Fresh vegetables and baked products in the Mossel Bay area
A variety of fresh vegetables from local farmers are available at very reasonable prices depending on availability. Our homemade baked milk tarts and baked breads are available on Friday just baked for the weekend! During holiday season they area available everyday!
Klipheuwel Bike Track
We are very excited for the back track to open the 1 December 2016. Look out for photos.
Klipheuwel het nou 'n heerlike fietsry baan vir volwassenes en kinders.  Bring jou fiets en valhelm en kom toets jou vaardigheid op die draaie en bulte.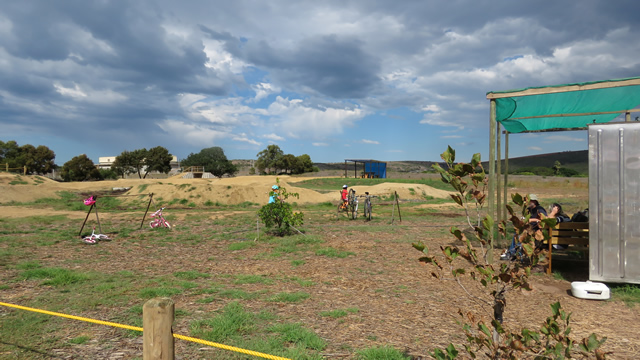 Fietsryer wat voor 10:00 daagliks verby Klipheuwel Padstal verbyry kan inval vir 'n gratis koppie koffie.