Held all over the village at different venues from the 22 September (opening) until Sunday 27 September. See all on the website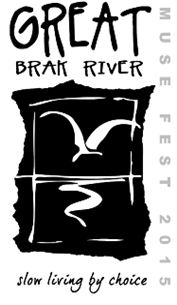 The Muse Fest is held for the fourth time and growing annually and very popular with locals and visitors alike. Our local, brilliant artist, Spies Venter, who turned 80 this year, is Muse Festival Artist for 2015. Other artists include voice artists and actor Chris van Niekerk, sand calligraphy artist, Andrew van der Merwe, (please Google him, his work s fantastic! Or visit our Facebook page Great Brakriver) young and very talented photographer Dillon Marsh & well-known Henry Holloway, only 1 of 2 non-Americans who won the Golden Bandstand Award.
Add to all this a fantastic organ recital by world renowned Father Noel Creill and beautiful guitar sounds by Trevor Nasser. (Though brilliant on the guitar and mandolin, his performance on the guitar is what made him world famous), and a FREE historic village walk, visiting the most important historic homesteads and buildings in our beautiful village and led by a trained local guide who will tell you all the little anecdotes of the village and its founding family. Plus there will be lots of fun for the kiddies at the Periwinkle shop.
Our local community will have a shoe festival to commemorate the shoe making that started the village. To end this wonderful 6 days of exciting events there will be a Sunday filled with laid back Jazz sounds of our delightful local artist Petronel Baard and the celebrated Henry Holloway.