Kort beskrywing van Mandala
"Mandala is 'n Sanskrit-woord wat "tower sirkel" beteken en die heelal uitbeeld. Hierdie simmetriese, geometriese sirkel versinnebeeld energie en die sirkel word as 'n geheel gesien.
We talk of a "circle of friends" or perhaps "the inner circle". Nature, life present a gallery of circle's, the earth, sun, moon, flowers, tree trunk, fruit, a wheel, to name but a few.
On raising your level of awareness you will be amazed at the discoveries as they unfold.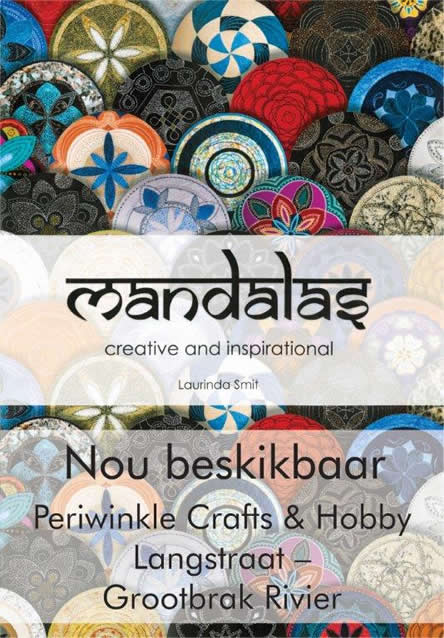 Belangstellendes word uitgenooi na 'n werkswinkel en te deel in hierdie skeppende ervaring.
Werkswinkel tydens Muse 2015
Datum: 25 September 2015
Tyd: 09:30 – 12:00
Koste: R120 (materiaal ingesluit)
Plek: Periwinkle Craft & Hobby Shop 67 Langstraat, Grootbrak-rivier.
Besprekings & Navrae: Laurinda 082 7388011/Zandra 082 7433089
Inkleurboek nou beskikbaar
Die Mandala Inkleurboek "creative and inspirational", is gebaseer op mandalas wat ontwerp is deur Laurinda Smit met ondersteunende boodskappe op die teenoorgestelde blad.
Die inkleurboek kan deur kinders sowel as volwassenes gebruik word. Die doel is dat dit individue moet neem op 'n gedagtelose reis met geen vooraf opgestelde idees of verwagtinge nie. Die eindresultaat kan 'n verrassing en 'n inspirasie inhou vir die persoon wat die toer meemaak