Welcome to the most informative Website of Great Brak River village, which nestles in a perfect Garden Route setting situated midway between George (30 km) and Mossel Bay (27 km). Sweeping panoramic views complement the outstanding characteristics of this jewel of the Southern Cape. The beautiful, unspoiled beaches in the area, and the lagoon, offer safe swimming. The presence of Southern Right and other whales from May till November is one of the town's main attractions.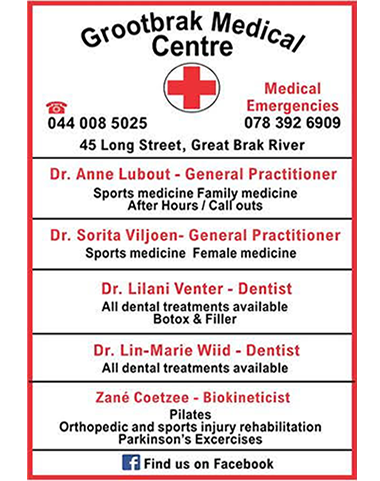 The Groot Brak Medical Centre, nestled in the heart of Groot Brak has been operational for since April 2021 and is already a well-established Medical Centre frequented by many satisfied clients and happy patients.
The river that divides the village is rich in marine life while its wooded banks offer excellent opportunities for bird watching.Follow the circular route through the village and experience the history and culture of years gone by. It is a little gem of a town situated at the confluence of the Great Brak River and the Indian Ocean on the Garden Route of the Southern Cape. It offers the scenic beauty of the majestic Outeniqua Mountains and the azure blue sea, rolling green hills and pastures, rich agriculture and culture. River bush and fynbos, aloe and dolphin, whale, suikerbekkie and man live side by side in a place one can only describe as paradise. The area is yet to be discovered by tourists. There is an Art route, several Cycling and Hiking routes, the Fragrance route (lavender planted in local gardens) and a Historic route. The community is alive with cultural activities, musical events and art in all its forms. It's a tourist's paradise. It also offers great accommodation for the tourist, with plenty of sporting and leisure activities, real estate for the buyer and great opportunity for the serious businessman.
LOCATIONS and LOCAL NEWS PAPER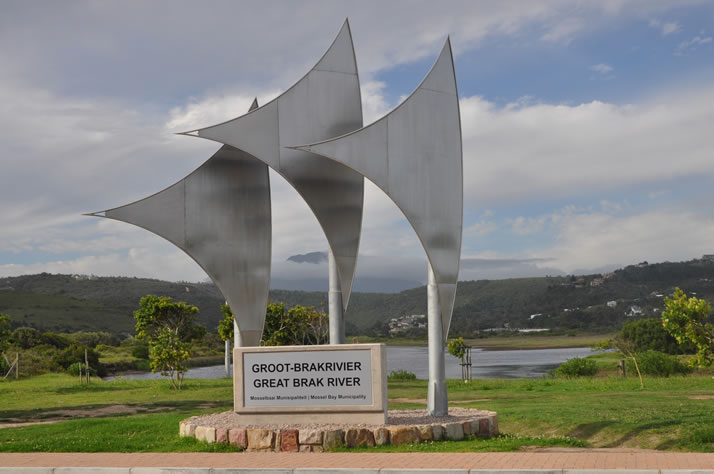 A WELCOME CHANGE!
Everybody in Great Brak River will be delighted to know that the name on the Three Flags symbol
opposite the police station was changed from Mossel Bay to Great Brak River. This was
part of a four month tourism initiative for Great Brak River to encourage economic growth in the town
and surrounding areas. Well done to all who made this happen!
Emergency Numbers:

Ambulance - 10177
Police - (044) 620 8304 / 082 522 2807
Medical Doctor – (044) 620 2208
Veterinarian - (044) 620 3133
Fire Brigade - (044) 691 3722
NSRI - 082 990 5954
Childline - 0800 055 555
Hospital - (044) 691 3718 / 691 2011
Grootbrak Buurtwag - 065 930 2771