We are holding an Art Festival in Groot Brak! Come and celebrate with us the incredible culture, food and art of the Garden Route!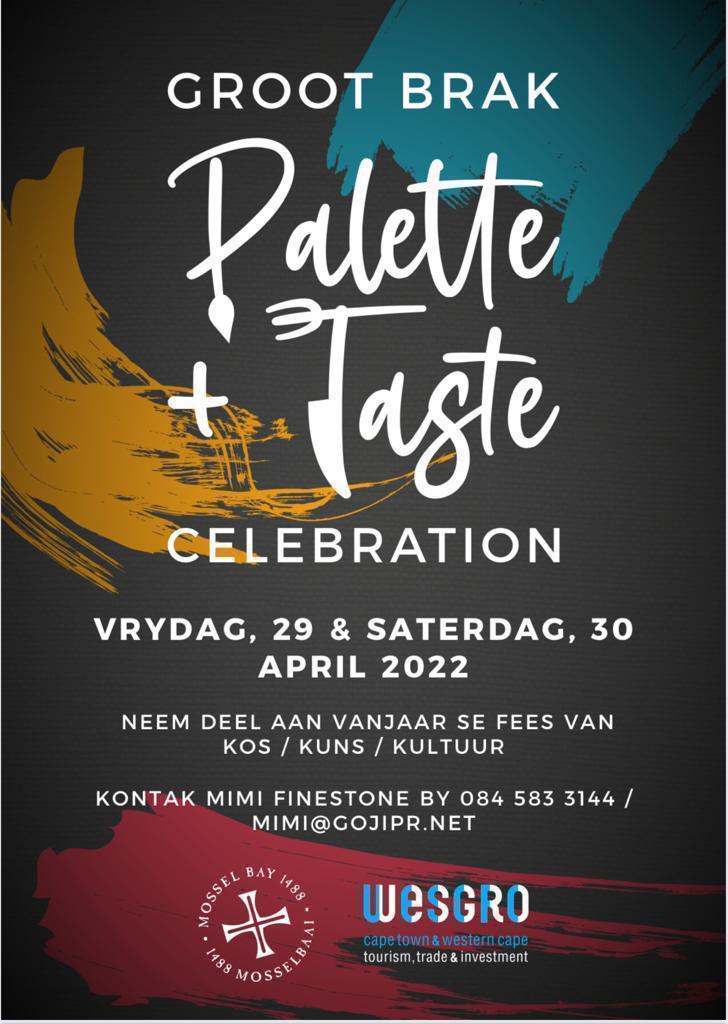 This is the second year that Palette & Taste is presented in Groot Brak and it is also with great excitement that Groot Brak's artists join hands this year with this unique festival. We invite all artists in the Garden Route to get involved by exhibiting their art or even hosting demonstrations!
The festival is held at Vorentoe Primary School in Groot Brak and there are exhibition spaces available in the hall as well as tents that will be set up on the rugby field right in front of the hall.
Large sculptures will also proudly show off the field. The festival also aims to motivate scholars and the youth in the Garden Route to develop a passion for art and live out their creativity in a positive way. With that in mind, there will be a children's art competition with great prizes!
The following exciting activities are planned for the Arts Festival:
Daily Demonstrations
Music performances
Food Demonstrations
Wine and Gin tasting
Refreshments
Dates:
28 – 30 April 2022
Times:
09:00 – 18:00
Exhibit spaces available inside the hall are 3 m x 3 m at R450 for 3 days.
Outside Exhibitors pay R300 for 3 days
Round tables are available that are 180 cm in diameter or alternatively tables of 180 cm x 75 cm
This Arts Festival will be held annually and artists exhibiting this year will enjoy preference for the Arts Festival in the future.
Please note:
Only Gallery quality contemporary and visual art, sculpture, stained glass, glass and ornaments can be exhibited. No flea market products will be on display.
15% of all sales of paintings are donated to Vorentoe Primary School to promote Art at the school!
Switch or WhatsApp
Christine Hugo
072 376 6716
christine@purpleheartart.co.za
OR
Tanja Lategan
076 046 3782
tanja@tanjalateganart.com