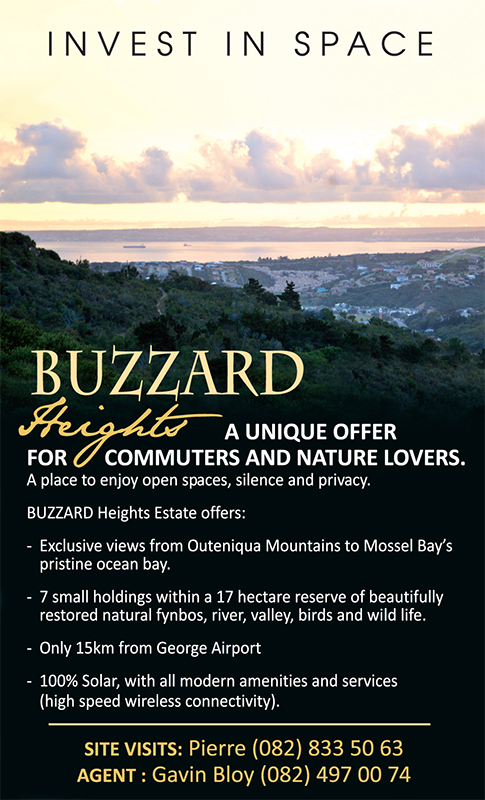 INVEST IN SPACE!
This is a unique offer for active commuters and nature lovers!
​​We offer a place to enjoy open spaces, silence, and privacy within a well maintained nature reserve of restored natural fynbos.​
You will own exclusive views extending from the Outeniqua Mountains to the north and east all the way to the pristine ocean bay of Mossel​​ Bay in the west.
There is no need to head for the desert to rebuild your sanity; Buzzard Heights is the place​away from the hustle and bustle of city and the residential suburbs of​ ​Plettenberg Bay, Knysna or Wilderness. This is a unique area to settle down in or just as a get-away.
BUZZARD HEIGHTS Estates, Great Brak River, 15 km away from the​ ​George Airport and offers 7 small holdings within a 17 hectare reserve of beautifully restored nature. Your home will be surrounded by the naturally occurring fynbos vegetation, river, birds and wild life.
Load shedding and unsightly power lines are a thing​s of the past in your home which is 100 % solar. You have all the modern amenities and services which include access to high speed wireless connectivity, so working from home is possible.
These 7 exclusive and individual residential properties are positioned to ensure your total​privacy.​ All services and schools are near at hand in the village of Great Brak River, a mere 4 kilometers away. There is a healthy lagoon estuary and a number of nearby beaches for walking and swimming a few minutes from your new home.