Grootbrak Medical Centre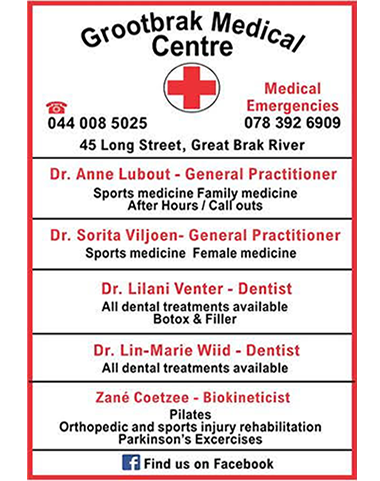 Dr Anne Lubout
It is managed by the very competent Dr Anne Lubout, who has the following degrees:
Master's Degrees in both Family and Sport Medicine and a Degree in nursing.
She brings to Groot Brak the experience of having practiced medicine in Secunda for 25 years and international exposure of 5 years as the Medical Doctor of luxury cruise liners, traveling the globe with all nationalities.
She was also a shareholder in the town's Medical Clinic.
Her love of sport earned her national colours in canoeing, 7 Comrade marathons as well as ten Two Ocean races.
She also completed in numerous cycle races like the Namib Quest and many other races and can still be found on the back roads of Groot Brak over weekends or running on the beach early in the morning.
Anne has two children who are both qualified medical doctors and a daughter in law with the same qualifications.
Dr Lilani Venter
Dr Lilani Venter is an energetic dentist that is passionate about dentistry and people. She studied at Wits University while raising her two children.  She has been practicing in the Garden Route since 2019.
She is the proud owner of Moss Dental in Marsh street, Mossel Bay and serves patients in Grootbrak River twice a week.
Dr Lilani did further studies in Aesthetic dentistry such as botulinum toxin injections, dermal fillers and polycarboxylate threading. She finished her 2 year International Orthodontics course at the end of 2022. She also did her implant course with Dr Gluckman during Covid time.
She has a special interest in Implantology, Orthodontics and Prosthodontics (removable and fixed).
Dr Lilani is determined to make dental visits pleasant and have her patients leaving with a smile.
Dr Sorita Viljoen
The center is privileged to have Dr Sorita Viljoen with special interest in gynecology and female health.
She also has a special interest in sport rehabilitation.
Dr Viljoen relocated to the Western Cape recently and is committed to rendering a service to the community of Great Brak River.
Dr Lin-Marie Wiid
Biokineticist Zané Coetzee
This team was recently expanded when the Biokineticist, Zané Coetzee moved her practice into the Groot Brak Medical Centre in July 2021. Zané has been practicing in Great Brak River since June 2017.
She brings a complimentary set of skills as she is a Biokineticist specialising in orthopaedic rehabilitation as well as sports injuries and running analysis. She has a keen interest in the treatment plan of neurological conditions. She has a passion for Pilates and runs classes for orthopaedic back injuries and teaches acrobatics to young children.
Her love of sport sees her competing in numerous challenging mountain bike races and trail running events. She has also competed internationally in events like the off-road triathlon world championship in Hawaii amongst the many others.